06 May

UPGRADING DIGITAL SIGNAGE

Upgrading to Newer Digital Technology

JCDecaux (JCD) are a leading light in global utilisation of LED/LCD technology. As an early adopter into the technology, the recognition that the technology of a few years ago has been dramatically superseded initiated an upgrade at their Perth Transport Authority (PTA) Tunnel location in the main city railway station. The screens, originally placed by APN Outdoor, were around 5 years old and Yap!digital were commissioned to update JCD's existing screens to 2.5mm LED screens.
This investment in new screen seems logical and a wise investment given that the projections for Perth's city based population will grow up to $2.2m by 2031. Population growth will see a 33% increase in personal travel from 5.8 to 7.7 million trips per day (ie cars, public transport, walking and cycling). The longer term city with 3.5 million people could see a further 59% increase in rail passenger travel to 12.25 million trips per day, or more than double the current level of activity.* All this means greater visibility for the content displayed on the JCDecaux video wall which is great news for advertisers. Read more about this upgrade in our Case Study here.
Digital Signage Upgrades
There's no doubt that in the same way that business' are converting their static signage to digital signage, over time there will be a strong business case to upgrade early models of digital signage into the latest, greatest, fastest, shiniest and new generation technology. There's so much more on offer in today's market, and our team have their finger on the pulse to provide you with impartial advice for what will work best for you – whether it be upgrading a digital video wall, a digital pylon or kiosk or interactive touchscreen.
Converting from Static to Digital Signage
NEWSFLASH!! Changing to digital signage can completely transform your business.  It will help you stand out from the crowd and give you a competitive edge over the competition. Importantly, transitioning to Digital Signage shows that you recognize what the consumer wants in their purchasing experience in this digital age.
If you currently use traditional static signs with a fixed message but your business model requires you to constantly change the content of your signage – digital signage is the answer. It is easily updated from anywhere in the world (as long as you have an internet connection!) and allows you to be highly responsive to customer demand. See our work at Waikiki Shopping Centre – picture left – where we have superimposed the old sign on the left, with the new digital sign on the right.
Digital signage is also a great way to impress your boss as it has the added benefit of offering creating revenue streams – such as selling advertising space to advertisers. This may apply to a retail complex where there are several other outlets that pay for promotional space on the digital screen …. Such as at 10am promoting the coffee shops special tea and muffin promotion to attract customer into the complex.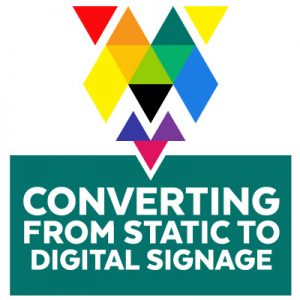 For more about how to convert from static to digital signage, read our Case Study here, and if you think you might be ready to convert, why not complete our handy questionnaire to see how 'digital-ready' you really are!
The Final Wrap
There's no doubt that digital signage packs a punch. To upgrade your current digital signage to the latest and greatest technology on the market the Yap!digital team are on hand to give you our non-biased recommendations. We are not affiliated to any brands which gives us maximum flexibility to design a solution based on the technology that fits your requirements the best.
Our Yap!digital team will also bring you their experience of static and digital signage solutions will ensure that your customers and users have an outstanding experience next time they visit you.
We're ready to start talking! Speak up now about your next project or idea.
T + 61 8 9274 5151 or tim@yapdigital.com.au